Luuk Lenders - musical whizz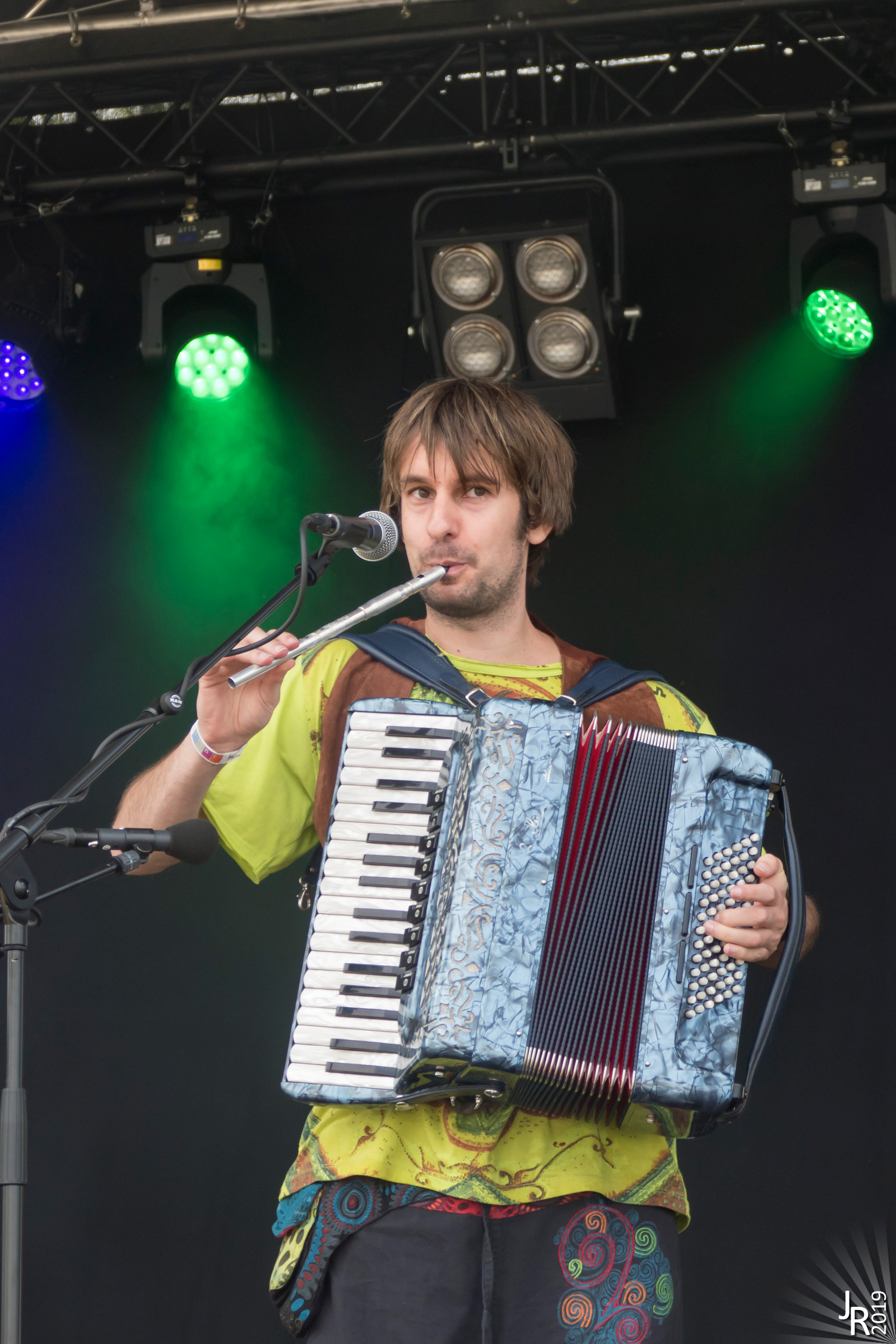 Jeroen Rood
Musical virtuoso Luuk Lenders is renowned for his creative folk music, featuring flutes and whistles, accordion, various foot percussion instruments, miniature harmonica, ping pong balls, and homemade instruments. He is often seen playing three or four instruments at the same time! Luuk's concerts are adventurous and captivating, heartwarming and funny: before you know it, you'll be smiling and clapping along. A collector of flutes, Luuk can get a tune out of almost every instrument. The Arabian shepherd's flute rustles like a desert wind, the Irish tin whistle trills like a nightingale, and the Swedish overtone flute rocks your socks off.
Luuk has collaborated with national and international artists, including The Dubliners, De Keltische Hobbits, and flute maker Alan Tower, as well as people from the theatre and dance scene and from recording studios. He currently performs at large and small venues with his entertaining solo show.
A magnificent mix of folk music from the Celtic regions, the Balkan, and the Netherlands, combined with own compositions, improvisations, and surprising acts.
A magical experience for young and old alike!
With his colourful collection of instruments, Luuk has travelled to:
International Folk Festival Gooikoorts (BE) * Theatre Festival Oerol (Terschelling) * The City Theatre (Stadsschouwburg, Utrecht) * The Castle Gardens (Kasteeltuinen, Arcen) * Paradiso (Amsterdam) * Castle Doornenburg (Doornenburg) * The Bee Convention (Bijensymposium, Maastricht) * Folkpodium (Zeist) * The International Art Route (Holthees) * Rathbaunhotel (Lisdoonvarna, IE) * Flamenco Bar 'La Pita Flamenca' (SP) * French Guesthouse 'De Lieve Hemel' (Sevenum) * Fantasy Festival Elfia (Arcen and Haarzuilens) * Aardbeienland (Horst) *
...and perhaps your event will be next!
Click here to get in touch with Luuk!
Would you like to feature Luuk on your website or in a newspaper article? The photos below are free to use and downloadable (click for enlarged size, then right-click to download). Please include the photographer's name! Thank you! For ready-made promotion copy, please refer to the Presskit and Rider page.
Reviews (in Dutch)
Luuk is leuk. En speelt bovendien hemels fluit en andere instrumenten.
Ken je dat Lord of the Rings gevoel, dat de muziek je zo meeneemt dat je het idee hebt ín de film zelf te zitten…?
Dat, en dan nog beter. Luuk verrijkt met zijn aanwezigheid en geweldige muzikaliteit!
~ Tineke Blok (zangeres, musical-ster)
Een muzikale kunstenaar als Luuk hebben wij niet eerder in "Podium 107.1″ gehoord: een prachtige mix van Ierse en Slavische klanken, met volledig akoestische instrumenten.
~ Maarten Verduyn (radiopresentator)
Vanmiddag: een intens en zeer speciaal tuinconcert van Theater Bij de Steef on tour. Veel dank aan Luuk Lenders die de tuin op een nieuwe manier tot leven speelde!
~ Jitka Demoed (concertprogrammeur, Utrecht)
De muzikale omlijsting van het Natuurlijk Gezond Festival was geweldig voor jong en oud. We hebben van je genoten! We 'fluiten' je bij deze terug! 'We want you back!'
~ Anita Goumans (organisator Natuurlijk Gezond Festival)
Lord of the Dance
(wharf theatre, Utrecht)
Hava Nagila Hava
(living room concert, Meerlo)
Bellendans
(theatre De KOM, Nieuwegein)
Would you like to book Luuk for your theatre, festival, event or party?
Click here to contact Luuk!