Luuk Lenders - musical whizz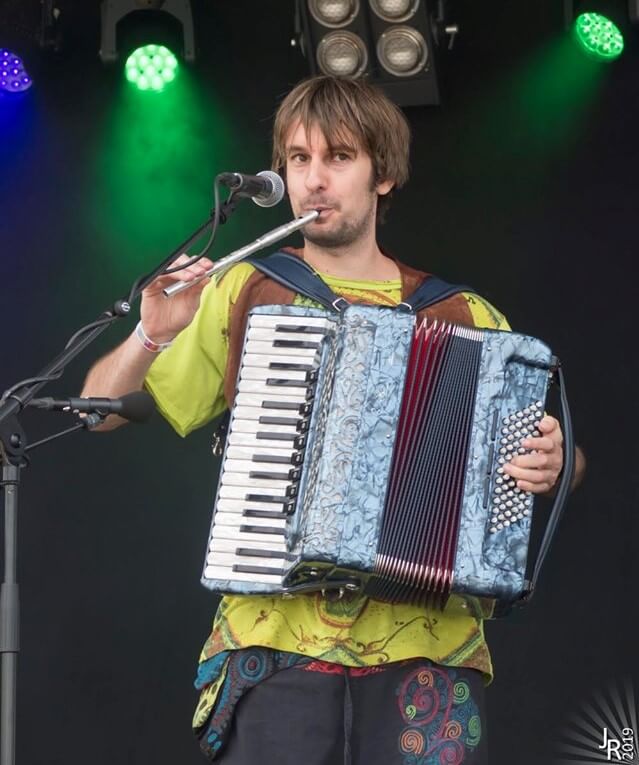 Jeroen Rood
Musical virtuoso Luuk Lenders is renowned for his creative folk music, featuring flutes and whistles, accordion, various foot percussion instruments, table bells, and ping pong balls. He is often seen playing three or four instruments at the same time!
Luuk's concerts are adventurous and captivating, heartwarming and funny: before you know it, you'll be smiling and clapping along. A collector of flutes, Luuk can get a tune out of almost every instrument. The Irish tin whistle trills like a nightingale, the table bells tinkle as a melodious waterfall, and the piano accordion rocks your socks off.
A magnificent mix of folk music from the Celtic regions and the Netherlands, combined with own compositions, improvisations, and surprising acts.
In 2017, Luuk released his debut "Bosduif".
In the autumn of 2023, Luuk will release his brand-new double album!
Click here to get in touch with Luuk.
For photos in BIG format: CLICK on the photo!

The photos above are free to download and use. Please do include the photographer's name. Thank you!
Treinwals (Train Waltz) / Utrecht
Irish jig / Cultureel Centrum Moira, Utrecht
Whistle medley in the woods / Bornia, Zeist
Irish dance tune / Stadsschouwburg Utrecht
Tarantella Medley / Kunstfestival, Nijmegen
Luuk has been here before:
Stadsschouwburg Utrecht, Theater Pepijn (Den Haag), Wereldtuinenpark Mondo Verde (Landgraaf), Openluchttheater (Nispen), Theater de KOM (Nieuwegein), Torenlaantheater Zeist, Paradiso (Amsterdam), Amfitheater Het Lommerrijk (Luttenberg), Schouwburgplein (Venray) (in het voorprogramma van The Dubliners), Rathbaunhotel (Lisdoonvarna, Ierland), Zuiderzeemuseum (Enkhuizen), Klooster Wittem, Domkerk Utrecht, Ooh La La Festival (Winterswijk), Kasteeltuinen Arcen, Rozenhof (Lottum), Kasteel Doornenburg, Festival Keltfest (Vijfhuizen) en Musis Sacrum (Arnhem) als gastmuzikant bij The Dublin Legends.
Whiskey in the Jar / Luuk with Seán Cannon and The Dublin Legends / Theater Musis, Arnhem
Would you like to book Luuk for your theatre, festival, or stage?
Click here to contact Luuk!