Luuk's new album out now!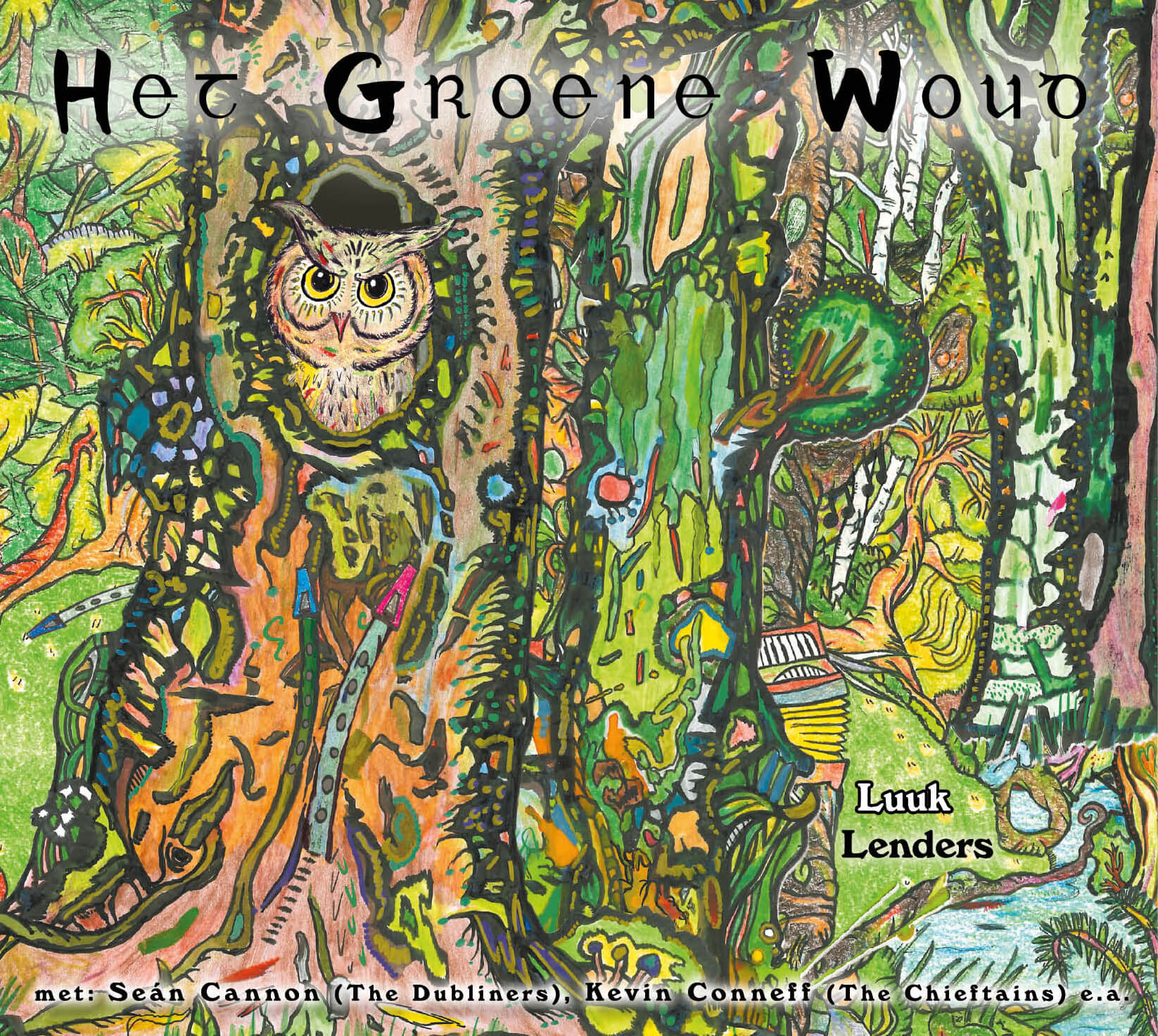 Luuk Lenders - Het Groene Woud (The Green Forest)
26 songs of Dutch and Irish folk music
Luuk plays: tin whistles, ocarinas, accordion, beatbox, mumbling forest creature, shruti box, grand piano, bicycle bell, kitchen whisk, rain stick, rubber ducky & over 40 other instruments!

Special guests: Seán Cannon known from The Dubliners and Kevin Conneff known from The Chieftains, and more!

Buy here
Now available as double-cd, cassette and digital album:
Welcome to Het Groene Woud!
In Het Groene Woud you can hear me at work with all my special instruments and creative ideas. I let accordion bellows swing and with my whistles I let the birds sing. I celebrate nature with festive dances and then I rest in a forest clearing. The music is evocative of a green Ireland, the Netherlands from long ago, and the footsteps of an American traveller on his long way home.
Most of the album consists of instrumental works, played with more than fifty different instruments.
On this album I would like to introduce an extraordinary guest to you: Seán Cannon, known from the legendary Irish folk band The Dubliners! They have greatly inspired me as a young musician. The Dubliners no longer exist, but Seán still tours the world singing.
This special collaboration inspired me to invite even more singers to Het Groene Woud, such as Kevin Conneff from that other legendary Irish band The Chieftains.
In addition, there are special guest appearances by bluesman Hans Theessink, the Irish Zoë Conway, banjo virtuoso Gerry O'Connor, American Songster Dom Flemons, Beppie Kraft from Limburg and Karin van As, the voice of the Dutch Railways.
The Het Groene Woud album contains two parts with two different atmospheres:
1) Dromen op het Mos (Dreaming on the Moss) and 2) Dansen in het Bos (Dancing in the Forest).
I wish you a lot of fun listening!
Luuk.
Music video!
Tá an Coileach ag Fógairt an Lae (When the Cock Crows it is Day)
Cheerful, dreamy, imaginative and playful. Luuk's flute playing in particular is particularly well cared for. Several guest musicians contributed to Het Groene Woud. And not the least! Luuk Lenders' own worldly compositions forge it into one whole. That can certainly be called impressive.
~ New Folk Sounds Magazine
This album shows great musicality, creativity and a love for nature.
~ Land van Cuijk (regional magazine)
I enjoyed playing to the arrangements. You laid down a great pallette of music! Till next time!
~ Dom Flemons (guest musician)
He pours a sauce of his musical versatility over his music. His enthusiasm during performances is infectious.
~ Peel en Maas Venray (weekly paper)
De Meulebèèk (L.Lenders)
Part 1: Dromen op het Mos (39 min.)
| | | |
| --- | --- | --- |
| | De Meulebèèk (L.Lenders) | 2.35 |
| | The Green Woods of Triugha (trad. arr.) | 4.00 |
| | Fáinne Geal an Lae (The Bright Ring of Day) (trad. arr.) - ft. Seán Cannon (The Dubliners) | 3.15 |
| | The Green Shamrock Shore (trad. arr.) | 3.32 |
| | A Ghaoth Andeas (The South Wind) (trad. arr.) - ft. Zoë Conway | 2.25 |
| | Zuidenwinddans (L.Lenders) | 4.37 |
| | Éamonn an Chnoic (Ned of the Hill) (trad. arr.) | 3.34 |
| | Oh Denneboom (trad. arr.) | 1.48 |
| | Aardbeiendroom (L.Lenders) / Roodkapje (trad. arr.) | 1.56 |
| | Triptych: Sneeuwwit Vogelkijn (trad. arr.) - ft. Hans Theessink | 3.18 |
| | Triptych: Het Groene Woud (L.Lenders) | 5.54 |
| | Triptych: 't Nachtegaaltje Zingt (L.Lenders) | 2.58 |
Part 2: Dansen in het Bos (36 min.)
| | | |
| --- | --- | --- |
| | De Uil zat in de Olmen (trad. arr.) | 2.13 |
| | Life Let Us Cherish / The Irish Washerwoman (trad. arr.) | 1.42 |
| | Wonderwoud (L.Lenders) / Son ar Chistr (trad. arr.) | 3.42 |
| | Maretakkenbos (L.Lenders) | 1.50 |
| | Als de Haan Kraait (Tá an Coileach ag Fógairt an Lae) (trad. arr.) | 2.03 |
| | Mannen met Baarden (trad. arr.) | 1.59 |
| | Peigín Leitir Móir - ft. Kevin Conneff (The Chieftains) / The Maid Behind the Bar (trad. arr.) | 2.43 |
| | Honeysuckle Hornpipe / The Swallow's Tail (trad. arr.) - ft. Gerry O'Connor (The Dublin Legends) | 3.48 |
| | Fluiter (L.Lenders) | 2.29 |
| | Waar in 't Bronsgroen Eikenhout (trad. arr.) - ft. Beppie Kraft | 3.39 |
| | Driekusman (trad. arr.) - ft. Hans Theessink | 0.42 |
| | Long Journey Home (trad. arr.) - ft. Dom Flemons (The Carolina Chocolate Drops) | 2.41 |
| | Dennis Murphy's Polka / Maggie in the Woods / Murroe Polka (trad. arr.) | 3.09 |
| | Bonus: De Treinwals (L.Lenders) - ft. Karin van As (Dutch Railways) | 3.34 |